The Afghans' first weeks on US military bases were hazy. In Virginia, Shami and her daughter met distraught women who were forced to leave their own children behind. In New Mexico, Freshta Ahrar's mother struggled to navigate her new environment in a wheelchair. And in Wisconsin, at Fort McCoy, some Afghan women didn't know who to tell about underwear they didn't want.
Fort McCoy, home to nearly 13,000 refugees, resettled its last Afghan families this week, narrowly meeting the mid-February deadline set by the Biden administration to resettle all refugees to new communities.
By the end of the Afghans' stay, the Fort McCoy supply operation was a well-oiled machine: the refugees boarded a bus to go to the warehouse on the other side of the military base in 60,000 acres. Blankets, jackets, closed shoes, hygiene products and underwear were stacked high.
But it wasn't always that simple.
Deb Lamere, a 47-year-old army veteran and disaster response volunteer, noticed at the start of her rotation at the refugee operation that a bin of sports bras seemed to remain largely intact. She started asking why.
"When I started assessing the room and started talking to our Afghan interpreters who were helping run the women's side, I started building relationships," Lamere said. "And after a few days, I asked them, 'What are you really need?'"
The interpreters informed her that many Afghan women were too shy to spend time looking through intimates in front of men, and moreover, would have preferred alternative underwear. As one of the few women in the field, Lamere found a way to quietly relay this information up the chain of command.
A sheet was quickly hung up to provide privacy, and women browsing spent more time sifting through clothes. It was "like a feeding frenzy," Lamere said, noting that when an elderly woman found the underwear she was looking for, she "beckoned to her body, happily, and gave me a hug. ".
With food, clothing and housing taken care of, Lamere said the next need was to figure out how to translate skills into jobs. Many have created resumes and searched online for job openings. Mothers were looking for quality child care and education. Others have enrolled in language and culture courses, including professional development and driving courses. In general, Lamere saw a desperate need for a support network, a community to help refugees feel less helpless and alone.
The closure of Fort McCoy resettlement operations means that only Joint Base McGuire-Dix-Lakehurst in New Jersey continues to house refugees. They are the last of more than 76,000 Afghans – more than half of whom were women and children – temporarily staying at eight military bases across the country.
"I am incredibly proud of the important work that our service members along with their interagency Task Force McCoy partners have accomplished over the past five months," said Gen. Glen VanHerck, commander of U.S. Northern Command, which oversaw the national resettlement efforts. A declaration.
Department of Defense officials put in contact on the 19th with several Afghan women being resettled in the United States. These women described harrowing journeys, family separations and worries about their future life in America.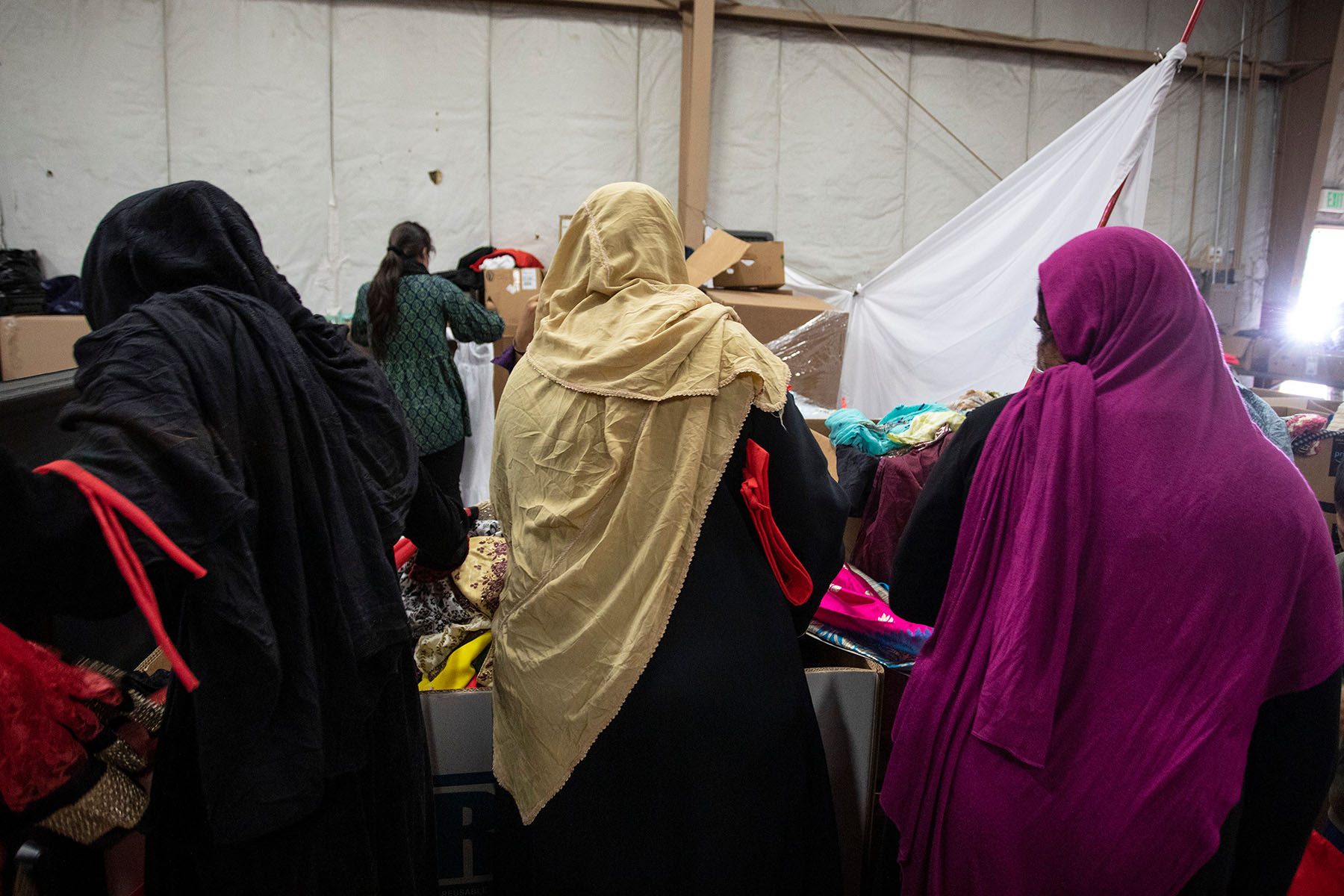 Shami, a 32-year-old Afghan refugee, arrived in Dallas in late August with her husband, daughter, niece and her husband's cousin. She heard applause and saw the smiling faces of resettlement agency workers, but recalled feeling "happy and unhappy at the same time".
It had been an arduous journey, made possible by a contact in the United States with ties to the military.
"I sent him all the paperwork and he helped us get into the airport," said Shami, who asked to use only his first name while his immigration paperwork was being processed and for his safety. family in Afghanistan. "You had to go through the Taliban and the Afghan National Force, and he was relaying information to American soldiers at the gate. We had to go to the airport three or four times before someone from the US Army [who knew our contact] finally called our name.
She narrowly escaped on one of the last American evacuation planes, just before an explosive device exploded and killed around 170 Afghans and 13 American servicemen at Kabul airport.
His mother, stepfather and stepmother were left behind.
After arriving in Dallas, Shami and her family were flown to Marine Corps Base Quantico, Virginia. She saw many distraught women, some mothers who lost children or were forced to leave some of their children behind in Afghanistan. Others marveled at "luxuries" they had never seen before in their villages, such as flush toilets, Shami said. There were also American workers who organized courses in cultural skills, language and driving.
But many families were still adjusting.
"Most women are not allowed to leave the place where they sleep," Shami said of the families she met on base in Virginia. "Men don't feel comfortable letting their wives go out alone. Husbands take food from the cafeteria… This mindset might take time to adjust.
Shami spoke to the 19 shortly before the Quantico base announced the departure of its last Afghan refugees on December 23. For the future, she says, her focus is on finances and education: getting proper employment clearance, finishing her master's degree, and giving it 16. one year old daughter on her way to college.
In Afghanistan, Shami had worked to help businesses in the region as part of a project run by the US Department of Defense. The savings from that job and the money her family had saved are now inaccessible to them, held in a bank in Afghanistan.
"We built a very nice house, which is still under construction," she said. "We couldn't take advantage of what we had built for ourselves. You leave everything behind, even your dreams. I always thought about having an IT company to help Afghan women in technology – I had to leave that behind.
Building a new life, she said, "is not easy, especially for people with families who work hard to earn a happy life."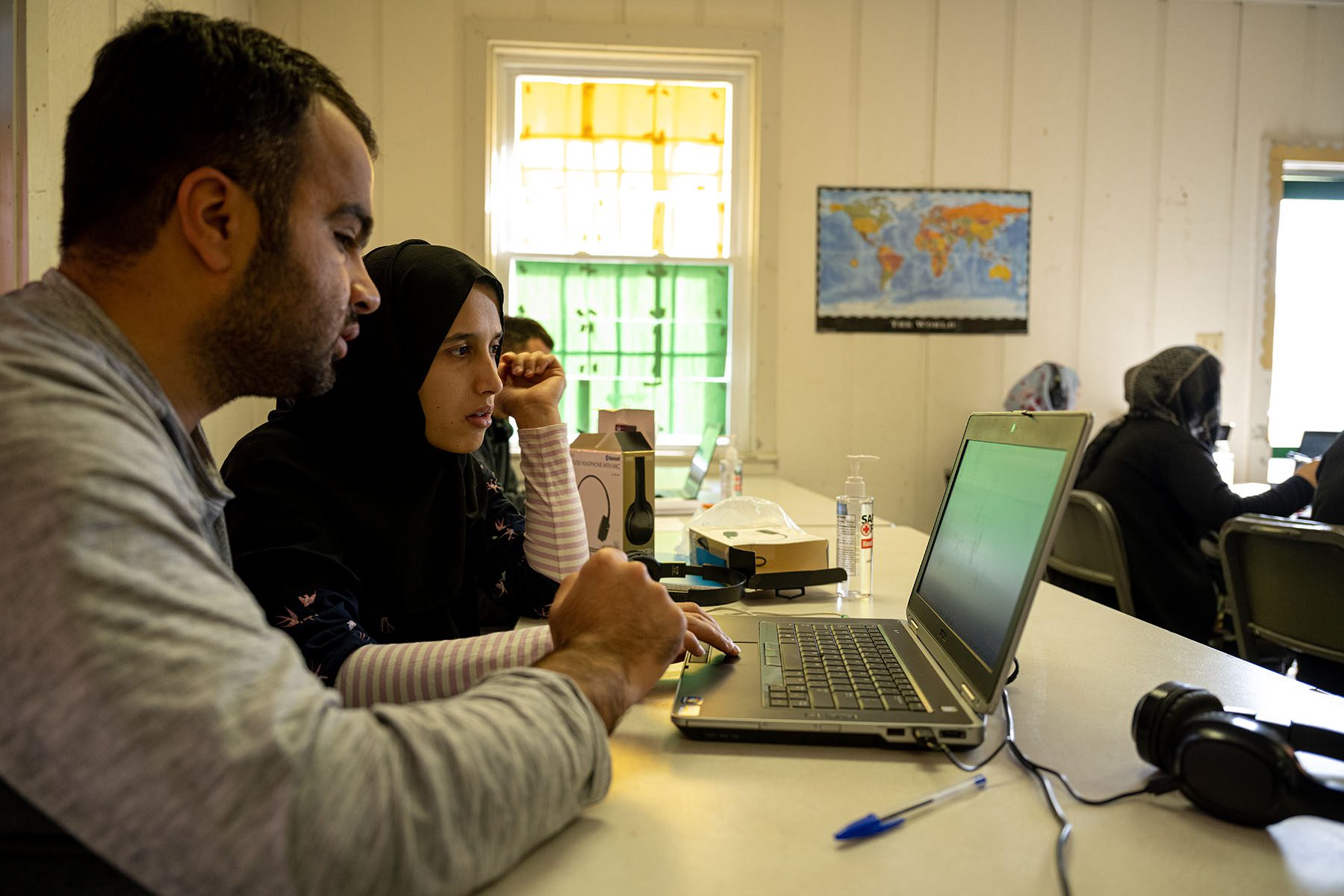 Ahrar, a 29-year-old UNICEF worker, arrived in the United States last October after a dangerous week-long journey from Kabul to Holloman Air Force Base in New Mexico. In Afghanistan, she worked for almost two years as a social policy specialist, a position that required her to return to Kabul if she wanted to keep it.
Eagerly waiting to see if she could get work authorization in time to find a job that would allow her to reside in the United States, Ahrar said she does not know when she will be reunited with her husband or if the months of savings that she had would be enough to support her family.
The Taliban took control of Kabul while her husband was in Italy to renew a residence permit for his work. Ahrar only had a few hours to pack a backpack and catch his parents, brother, sister and brother-in-law. Outside Kabul airport, there were thousands of panicked Afghans running and a group of Taliban fighters firing their weapons skyward. The family were forced to kneel – except for Ahrar's mother, who remained in her wheelchair – for more than 12 hours throughout the night. Once inside, they waited in line for four days without food, water or shelter from the scorching sun. Finally, they crowded onto a plane alongside around 500 other people and headed to Abu Dhabi, where they stayed for more than 50 days, delayed by COVID-19 quarantine protocols.
The family did not stay long at the base in New Mexico. Ahrar's mother, a retired engineer who suffers from severe knee and spinal cord inflammation, often struggled to make the 10-minute journey between the family tent and the toilet several times a day. Less than three weeks after their arrival, she fell from a flight of stairs. The family got an early departure from base after the crash, and a friend helped them book tickets to California, rent an apartment there, and enroll in English classes.
The air base announced the departure of its last refugee on January 26.
"The first thing I noticed was that it's very calm and quiet here," Ahrar said from his new home. "You rarely see people other than on weekends, but where I'm from you'd see people everywhere every day – crowded. It could make my parents homesick.
Ahrar said she never wanted to leave her country for good but knew that if she were ever to have children, they would need security. And while she's grateful to be safe, the stress and uncertainty weighs on her.
"Emotionally and mentally, I try to control myself using all these techniques I've learned to stay totally normal," Ahrar said. "There are five to six people whose lives depend on me, and it's very hard. If you feel that you are also going through difficult times and trauma, you must appear very strong to the rest of the family members.